Greetings as we see the restrictions slowly lifted!
Certainly extraordinary times that will be remembered for a lifetime as 100 years on from the Spanish Flu we commence the task of restarting much of our economy. Over the next few weeks it is the stated goal of the Federal Government to have the majority of the domestic economy back to work by early July in a staged approach, subject to any further major breakouts of the Corona-virus. It has been a difficult time for all of us but hopefully we can begin to see some light at the end of the tunnel. Australia has at a relatively level done far better than many comparable countries and does seem to have the capacity to provide effective medical assistance to all that may need it having "flattened the curve". Elective surgery has now thankfully recommenced which will be a welcome relief to a number of clients. Interpreting the graph below which shows the ratio of positive cases to deaths on a 10 year age band we have only suffered 3 deaths of Australians under the age of 60 which is a welcome statistic when compared to the rest of the world.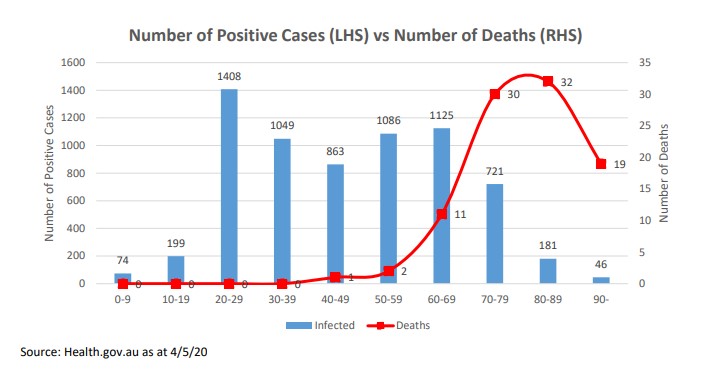 So the pivot begins from saving lives to saving livelihoods in a truly historic team Australia moment. At this stage Australian Banks have allowed around $160 Billion Dollars of loans to be deferred for up to 6 months with Tenants unable to be evicted during this period. This was reflected in the half yearly results of ANZ, Westpac and NAB with reserves made for these loans effectively halving reported profits and dividends delayed until the likely repayment ratios become clearer. CBA reports later this week, which will then give a complete picture of the current loan book of the four majors. It is important to understand that these are loan reserves at this stage which can be recredited back in 6 months' time. This includes paying dividends, if repayments revert to normal and that residential loans are generally well covered with additional spare equity. Those industries hardest hit by the lock down, including retail and hospitality, have benefited from the Federal Government's Job keeper program which pays eligible employees a flat $1500 per fortnight for 6 months via their linked employer. These funds started coming in last week and will be a godsend to those who have been stood down through no fault of their own. Finally, over 1 million Australians have applied for early access, up to $10k from their Super, with the majority of which has been paid out (most in unadvised Industry Fund growth type asset classes which had fallen significantly in the previous few weeks).
Equity markets both here and overseas continue to recover from their lows in spite of really adverse employment data out of the US in what is becoming quite a disconnect between "Wall St and Main St". Drilling down the best performing stock in recent weeks, remain in the global technology sector with strong automated ongoing revenue streams with the NASDAQ actually up 15% on a year on year bases. This again highlights the value of sensible diversification into overseas markets which offer access to both investment sectors and global opportunities which are not available in our domestic economy. The ASX 200 has lagged somewhat reflecting the higher allocation to Financials with the four main banks traditionally representing 25% of the Index and 50% of the Dividends, being down between 35% and 50% since the corona-virus started. This may correct itself over time should sentiment improve and at this stage could amount to some good entry prices for the banks based on a 5 year time horizon and dividends recommencing. Our actual terms of trade in March (exports minus imports) was a record $10.6 Billion due mainly to high iron ore prices and shows just how fortunate we are as a nation to have access to such natural resources.
Australia reports its April labour market this Thursday which analyst estimate could reflect job losses of 500,000 and an unemployment rate of 8% which will make very sobering reading. Reflecting client meetings at this time it is the small business community which has really been hit particularly hard and employs around 47% of the entire workforce. Where possible Australia is sourcing additional funding and State based grants to assist these business's get back on their feet. The Federal Government has also launched an unsecured lending facility of up to $250,000 through 32 banks which is 50% guaranteed by the Government in the event of default. It can be very lonely being in business so if you are struggling and need some help please contact me directly tony.virtue@virtueandpartners.com.au.
Restrictions on live property auctions were lifted at the weekend and it was good to see plenty of activity in our local community. While jobs and net migration are crucial to the long term growth of the property market, local real estate agents are observing greater overseas interest particularly from expats. A flight to quality and a safer community makes Australia attractive on a global bases, so careful management of the Coronavirus may be good for longer term net migration. In the education sector, plans are being made to allow foreign students to study here under strict quarantine rules which over time should help restart this important part of the economy. Those of you living close to Manly are aware of our own Quarantine Station on North Head (now a hotel) which before the second world war was used as a screening post for new migrants before being allowed into the community, so where there is a will there is a way!
Naturally we are busy here with many meetings now being conducted on Zoom (video conferencing). While no substitute for face to face meetings it is amazing how adaptable we are as a community and the technology is excellent allowing multiple people to access meetings from all over the world. It is reducing our travel time and making us more efficient which is something positive to come out of the current restrictions. We have also updated our website www.virtueandpartners.com.au to encourage greater online communication with the next step being an app on for your phone.
So upwards and onwards.
Tony